Teotihuacan
Teotihuacan is one of the largest ancient archaeological sites in Latin America. 78 km from Mexico City you can visit and know this incredible cultural and historical place, and walk through one of the places of the oldest civilizations that lived in Mexico. Book your tour to Teotihuacan with professional tour guides.
Teotihuacan Tours and Activities
Meet Teotihuacan, the "city of the sun" or "city of gods" of Mexico
Pyramids of Teotihuacan
Every year, millions of tourists visit the imposing pyramids and temples of the extensive metropolis Teotihuacán, a far cry from where the most recent vestiges were found at the southern end of the city.
The architecture of Teotihuacan is very extensive, with different works that can be visited, which stand out for their great beauty and design in their construction, among them the emblematic pyramids such as the Pyramid of the Sun, the Pyramid of the Moon and the Pyramid of the Feathered Serpent, among other works to visit.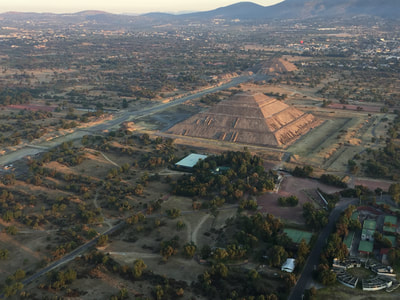 Where does the tour start? In Mexico City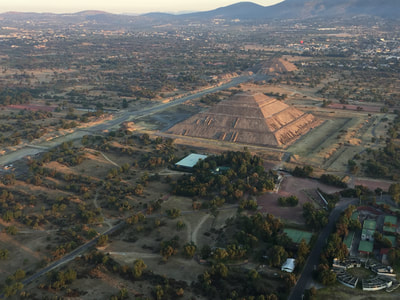 The Aztecs named it "The city of Gods" and holds one of the biggest buildings of the ancient world; the pyramid of the sun measures 225 meters long. It was declared a UNESCO World Heritage site.
Teotihuacan Balloon Tour
In addition to the walking tour around Teotihuacan, we also offer the hot air balloon tour, with which you can see from high altitudes the entire archaeological zone of Teotihuacan and enjoy incredible views.
The hot air balloon tour will give you an incredible experience through the air, where you can get to know the whole area and see from a distance all the works and constructions of what was the cradle of one of the oldest civilizations in Mexico and Latin America. Do not wait any longer and book now your tour of this incredible archaeological site.
Hot Air Balloon in Teotihuacan
This are our packages starting from a group of 2
Combo 1
Transport + hot air balloon flight + breakfast buffet $169 USD per person.
Combo 2
Transport + hot air balloon flight + breakfast buffet + tour on the site $189 USD per person1
Teotihuacan & Basilica Tour
Routes, costs & itinerary proposal
Departing from Mexico City
Costs
Includes
Itineraries
Recommendations
Costs
Private tour with bilingual professional guide
Group of 1 to 4 people    $198 USD
Group of 5 to 6 people    $309 USD
Group of 7 to 10 people  $455 USD
Fill out a form to quote groups larger than 10 people
Includes
​Includes:
Nine hours service (approximately)
Transportation from your hotel in the center of the city to the previously described places.
Professional English and Spanish speaking guide
Teotihuacan tickets (archaeological area)
Excludes:
Itineraries
​Tour duration: Nine hours approximately
Note: This is a private tour, so you can customized it to your preferences or needs.​
08:30 Hotel pickup
09:30- 15:00 Archaeological area of Teotihuacan
15:00 – 16:00 Lunch break
16:00-17:30 One of the following activities:
Basilica de Guadalupe (Our lady of Guadalupe Shrine) or
Ex monastery of Acolman or
Square of the tree cultures (Tlatelolco)
Recommendations
​As this is a private tour you can customize it to your needs. We recommend wearing comfortable clothes and shoes since 70% of the time we will be walking. Bring some sunblock and a hat (or a cap)